BREAKING NEWS: New Webkinz Arrive in Webkinz World
More of the Webkinz scheduled for an August release have arrived in Webkinz World.  We are now able to bring you the first in-game pictures of the Coco Dinosaur with his Prehistoric Stove (Food: Sweet Cocoa Con Carne, bottom left), the Skunk with his Black & White Fridge (Food: Toadstool Fritter, top left), the American Albino (Horse) with his Garden Stripes Table (Food: Sugar Cube Satay, bottom right), and the Silverback Gorilla with his Mysterious Pool (Food: Shoots & Roots Pizza, top right).

Thank you to bonniesbabies, a member of our forum, for sharing these pictures with us of the latest additions to her Webkinz Family:  Bam Bam, Stinker, Wolke, and Sterling.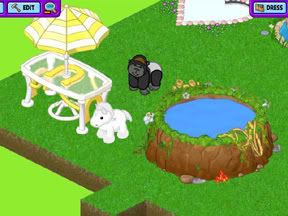 Who's online
There are currently
1 user
and
795 guests
online.