Mini Golf : Hole 2 .
Hello all, I'm here to teach you how to get by that pesky course on WEBKINZ MINI GOLF. Today I will start with hole number 2 since Justin has already done hole 1.
Now hole 2 is one of the more straightforward holes on the course. (No pun intended) Here is a picture of how your supposed to aim and how much power you should use.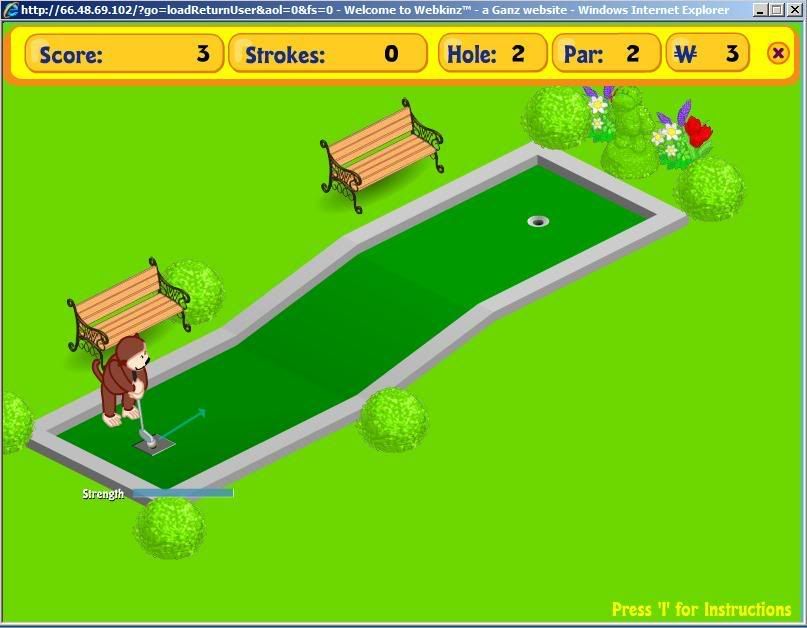 ok. I suggest you use full power because if you miss the ball will bounce back and you will have any easy par to keep your score down.
It takes a lot of practice and a good eye to get a hole in one on this hole every time. If you can't get that hole in one it's good to be able to set up short shots. You will see me use the strategy more and more once we get to the back nine. Remember this is a par 2 so make sure you are cautious if you chose not to use full power because the ball may not make it up the hole.
Well I'll be back to show you how to beat hole 3 soon. So long for now and keep practicing.
Off the course: I find it most effective to use Taylor, because it appears she has better control then the other 3 golfers. If you like power go with the Basset Hound ;)
Who's online
There are currently
2 users
and
614 guests
online.